The Three Steps to Spring Cleaning your Skincare Routine with Alexandra - Part 1 - Cleansing
Posted on
When it comes to spring cleaning your skincare routine, we live by three simple steps:
Cleanse & Balance
Nourish & Activate
Moisturise & Protect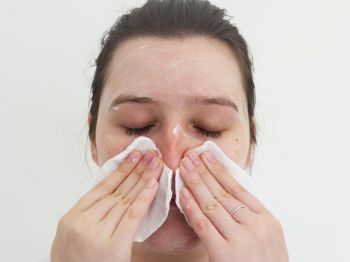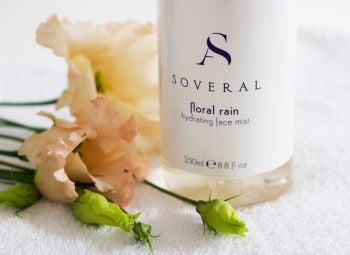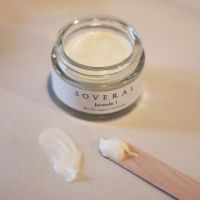 Over the next few posts, Alexandra is sharing her most valuable advice for each step and we will be offering an exclusive discount on the hero product of each step. Read on & take note!

Soveral Cleansing rules Do's & Don'ts
Do
Cleanse twice a day
Use a clean face cloth each day
Include the neck & chest
A two-step cleansing if wearing foundation or heavy make-up
Test the skin's PH after each cleanse with Floral Rain
Don't
Over cleanse
Rinse face with water
Be harsh around the eye area
Wait until bedtime to cleanse if wearing foundation, remove as early as possible
Use foaming or stripping products that affect the skin's PH


Morning cleansing:
The skin detoxifies whilst we sleep, depositing toxins in the lymphatic fluids ready to be expelled, this is what makes us look a bit 'puffy' in the morning. The best we can do for our skin in the morning is to help it complete its detoxification process within its underlining tissues and cleanse away any impurities deposited on the surface of the skin.

STEP 1 – Dry Skin Brushing - Lymphatic activation & dead cell removal.
STEP 2 – Awaken Cleanse – Purify the surface of the skin with the natural antiseptic properties of the lavender essential oil.
STEP 3 – Floral Rain – Balance the skin's PH & hydrate.

Evening Cleansing:
NORMAL SKIN & NOT MUCH PATIENCE
Simply massage Awaken Cleanser onto dry skin and remove with a hot damp face flannel.

THE DILIGENT & MAKE-UP REMOVAL
STEP 1 – Awaken Cleanse
STEP 2 – Angel Balm Deep Pore Cleanse
STEP 3 – Spray Floral Rain

Removing eye make up:
Always start your cleansing routine with removing eye make-up first:
STEP 1 - Damp a cleansing pad with warm water add a little Awaken Cleanser or Angel Balm if wearing waterproof eye make-up, rub the product onto the material so that it is semi-absorbed.
STEP 2 - Gently remove the make up without causing too much friction.
STEP 3 - Repeat with just a damp warm cleansing pad to remove all residue.

DRY & ROUGH SKIN
STEP 1 - Dry Skin Brushing will remove dead skin cells that are ready to be shed away. Follow the instructions with the Soveral Dry Skin Brushes
STEP 2 - Angel Balm – Do a vigorous face massage then remove with a hot damp flannel, concentrating on rough areas for a deeper exfoliation. For very rough scaly skin mix a little balm with fine sea salt and rub over the dry skin.


SENSITIVE SKIN
STEP 1 – Awaken Cleanse with a gentle warm flannel, for very sensitive skin swap Awaken Cleanser with Soveral Jojoba Oil.
STEP 2 – It is important to bring balance to even sensitive skin, if Floral Rain is too irritating, spray it into a damp cotton pad and dab onto the skin.

PROBLEM SKIN – ACNE
Follow the steps above then add a drop of Lavender and a drop of Tea Tree essential oils onto a cotton bud and dab onto the spots.


For those who may not be converted to a facial mist yet, or be aware of the benefits, Floral Rain is a skin quencher, packed with nourishing extracts of aloe vera and floral waters.

Specifically designed by Alexandra as the perfect finish to a good cleansing routine by bringing the skin's PH to a healthy level.

All skin cleansing, even the gentlest, will at some level disturb the skin's acid mantle, raising or lowering its PH levels, affecting the skin's microbiome. By simply spraying Floral Rain on freshly cleaned skin, you are encouraging the skin to return to its optimal PH level... as well as rehydrating and minimising pores.

Keep an eye out for the next stage of Alexandra's spring cleaning for skincare!

In line with our focus on spring cleaning your skincare, we are offering 25% off Floral Rain for the next week!
Simply enter floral25 at the checkout and the discount will be automatically applied.
This is valid until Friday 9th April - it does not apply to other products.